Sníchim Foundation History
The Sníchim Foundation (previously called Kwi Awt Stelmexw) has been in operation since 2015, delivering immersive language learning programming and cultural immersion services. The Sníchim Foundation was established to continue the work of Kwi Awt Stelmexw —a Squamish language, culture, and arts initiative— with a refined focus on immersive language programming and education. Our activities reflect our unwavering commitment to continued language revitalization in service of the Sḵwx̱wú7mesh People's resurgence. We create programs to develop fluency for intermediate and advanced level speakers, offer rich cultural experiences, and empower speakers to use their language skills in employment opportunities.
The future of the Sḵwx̱wú7mesh Sníchim gets brighter and healthier each year that we have a new cohort of learners. Many of our graduates choose to continue with language work to help grow and spread it amongst our people. The continuation of the Sḵwx̱wú7mesh sníchim is essential to our community, and we see our work as central to the wider project of Sḵwx̱wú7mesh cultural resurgence.
In 2010, fewer than ten fluent Sḵwx̱wú7mesh Sníchim speakers remained in our Nation, and our language faced extinction. Inspired to reverse the decline of our language, we convened an informal group of Sḵwx̱wú7mesh People that met in the homes of community elders to learn about our linguistic heritage. Since then, Sníchim Foundation has grown to become a respected organization with an educational partnership with Simon Fraser University, offering immersive language education and unique cultural programming. We have created a scalable language revitalization plan with the aim of achieving sustainable generational transmission of linguistic and cultural knowledge within the Sḵwx̱wú7mesh People.
Dr. Peter Jacobs (Tnax̱wtn)
Peter Jacobs is a linguist at the University of Victoria and a fluent speaker of his Sḵwx̱wú7mesh Nation language, and one of two elder speakers left in the Nation. Tiná7 tkwa Wiwiḵ'em ta Peter (Peter comes from a Squamish Nation…
MORE
Associate Editor of the Skwx̱wú7mesh-English Dictionary and teacher at the Squamish Language Program, with Squamish Nation.
MORE
Emergent:
The Emergent Fundraising and Consulting team have supported the Snìchim Foundation in all of our fundraising efforts and grant-writing, communications strategies, and writing.
Simon Fraser University (SFU):
In 2016, The Sníchim Foundation partnered with SFU's First Nations Languages Centre and Department of Linguistics to launch a two-year, full-time, adult immersion program in the Sḵwx̱wú7mesh language. Since then, over 40 students have achieved intermediate proficiency, and we are expanding our offerings to deepen fluency and support learners to take the language into daily life in our communities. The Sníchim Foundation (previously K.A.S.) and SFU have offered a Sḵwx̱wú7mesh Sníchim Certificate Program since 2016. In 2020, SFU in collaboration with The Sníchim Foundation to launch its first cohort of the Sḵwx̱wú7mesh Sníchim Diploma Program.
Where Are Your Keys (WAYK):
The Sníchim Foundation has a well established partnership with Where are Your Keys (WAYK), an organization specializing in language teaching pedagogy. WAYK was designed as an answer to the challenges of Indigenous Language Revitalization, especially for languages under pressure like Skwx̱wú7mesh Sníchim, due to scarcity of language speakers as a result of colonization. The WAYK system is regarded as the most rapid and effective tool for learning any language, endangered or not. We work with WAYK to deliver all of our language immersion programs and maintain a shared belief that strengthening languages strengthens communities.
Tsleil-Waututh Nation (TWN):
While the Sníchim Foundation is a Sḵwx̱wú7mesh organization, we are deeply connected with the Tsleil-Waututh Nation and we collaborate on many of our programs. Tsleil-Waututh Nation also offers language immersion programming to support the revitalization of the Hunq'eme'nem language. All Sníchim Foundation programming and support services are open to Tsleil-Waututh peoples and reciprocally the Tsleil-Waututh Nation's language programming remains open to all of our participants. Through our partnership, we are able to share best practices, techniques, and collaborate to achieve our shared long-term language revitalization goals.
The Sníchim Foundation (SF) is an Indigenous-led, charitable organization that builds community by revitalizing the Sḵwx̱wú7mesh sníchim through immersion-based learning with the goal of strengthening our rich Sḵwx̱wú7mesh heritage and supporting the linguistic, cultural, and social resurgence of our people.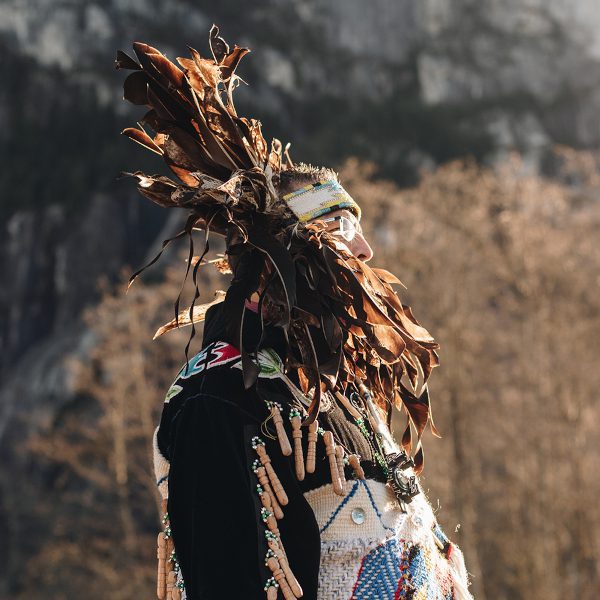 The Sníchim Foundation believes that language revitalization is central to the work of decolonization and Indigenous cultural resurgence. Educating members of the Sḵwx̱wú7mesh Nation to speak and read in our own language is an invaluable step in the work of repairing the harms of colonialism and ongoing forms of racist discrimination. Indigenous Language Revitalization catalyzes positive change at both the individual and community level by enhancing confidence, building skills, and creating new forums for creative expression. By connecting elders and knowledge keepers with young learners, we work to strengthen intergenerational ties and ensure continuity between Sḵwx̱wú7mesh traditions and contemporary cultural forms. The Sníchim Foundation runs on funding from government, foundations, and philanthropists, but we can do more with donations from the public. With your generous support, our organization is able to do this essential and urgent work, and your donation will directly fund initiatives like our Language Centre Fund and support job creation for graduates of the diploma program as new language teachers.
We are grateful for every dollar donated to support our very special and sacred work.